The role of a major-account manager is significantly different from the roles of other salespeople, since these elite sales executives manage only very few but substantially larger accounts. Their role is more strategic, and their company's fortunes often depend on their success. To explain the strategic role of the major-accounts manager, watch this brief video, "The Role of Strategic Account Management," with Bernard Quancard, president and CEO of the Strategic Account Management Association.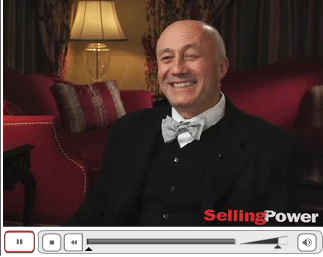 Clicking on the thumbnail above will expand and play the video.
The Challenge of Keeping Up With an Avalanche of Information
One of the most difficult jobs in managing major accounts is to keep up with the massive amount of information within the account. Imagine being in charge of selling your company's services to IBM, Oracle, or Microsoft. How will you be able scan and monitor the rapidly changing corporate landscape?
Here is a way to illustrate the dilemma of learning all there is to know about a major global account. Imagine placing a dime in the middle of a large, round table that seats 10 people. The dime represents the knowledge about a major customer account, and the surface of the table represents the company's global knowledge base (operating around the globe). Let's assume for a moment that we could double the time spent searching and absorbing this information. By doubling the effort, we might be able to increase the size of the dime, or the information we know about the major account, to the size of a quarter. What have we accomplished? We merely increased our ignorance about the global account.
Here is the dilemma of the major account manager in one sentence: Knowledge is increasing exponentially, but our capacity to absorb knowledge is not. Fortunately, the Internet and information technologies are helping account managers search, scan, monitor, and retrieve deep account knowledge at detailed levels according to their strategic interest. In a way, today's most advanced Internet search technologies can transform the dime (as described in the above analogy) into a lens through which the account manager can observe all moving parts of the global account in real time.
There is a huge amount of strategic knowledge available on the Internet; however, there is also a huge amount of junk – useless information, duplication, erroneous information, or obsolete data. Finding information is easy with Google, but transforming the information you've found into useful and actionable data requires much more than a simple search engine.
What Information Should Major-Account Managers Track?
Below is a map that shows the challenges major-account managers face when creating business intelligence.
The top part of the map represents what account managers are looking for:
Know the customer's business. In order to become the trusted advisor, account managers need to know the customer's business strategy, business models, cost structure, profit sources, and all related financial changes.
Know the customer's economic environment, which impacts business development.
Know the customer's competition and the competition's business model, and business strategy.
Know the customers' customers. Account managers need to intimately understand how their customers attract and create customers.
Know the customer's industry.
Know the customer's legal challenges, partnership agreements, license deals, etc.
Know the customer's key executives and their roles, and monitor all key executive changes.
The bottom of the map represents information challenges:
Know what to look for. Account managers need to establish an information grid and set filters to capture only the most essential information.
Know how to zoom to a granular level of information. Account managers don't need to know every detail, but when special situations come up, minute details become vital to the sales effort.
Know how to create customer success.
Know how to align internal teams. The account manager needs to be able to quickly share all account details to get internal teams to deliver results.
Know how to create custom solutions.
Know how to leverage capabilities.
FirstRain – A Shift in the Creation of Real-Time Business Intelligence
FirstRain
is an amazing business research solution that turns the Web into a powerful source for creating customized, real-time business intelligence. FirstRain allows major-account salespeople to arm themselves with highly granular sales intelligence about their customers, the customers' economic environment, the customers' customers, and the customers' competitors.
What makes this application most useful is that account managers are no longer chasing information, but they receive instant, real-time company briefings that deliver what they need to know. Below is a
two-minute introduction
about how FirstRain works for account managers.
After test-driving FirstRain, I quickly realized the difference between a standard Google search and a FirstRain deep dive for very specific information. Researching on Google is like working with a 1-megapixel camera; you get an image that's adequate, but the closer you zoom in on the details, the more blurry the image becomes. FirstRain is like a 50-megapixel image that allows you to zoom in on a tiny detail, and you still get a sharp image. You get deep, fast, relevant, accurate, and above all real-time information about your customers. Instead of chasing information, major-account managers can stay on top of the tsunami of information, become an integral part of the customer's business, and continually contribute to client success.
Disclosure notice: FirstRain will be exhibiting at the Sales 2.0 Conference in Boston on June 28th where you can test drive their solution.
Please share your comment on this post.
Email this blog to a friend